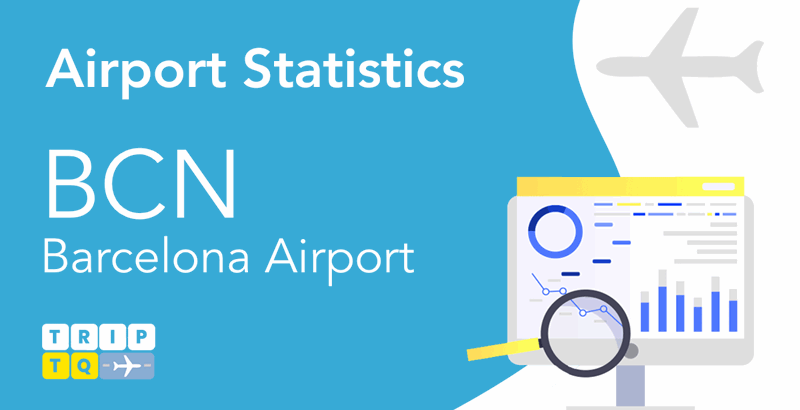 Barcelona Airport Sees Strong Passenger Recovery in Q3 2023 Surging 11%
In Q3 2023, Barcelona Airport marked a recovery from the global pandemic. Despite not reaching pre-pandemic levels, the airport saw a substantial increase of 14,502,525 passengers, representing 10.66% compared to Q3 2022. Despite the challenges posed by the pandemic, its consistent growth underscores Spain's aviation sector and its potential for future growth.
Sustained Passenger Growth at Barcelona Airport - Q3 2023
Barcelona Airport in Spain showed sustained passenger growth in the third quarter of 2023, with passenger numbers reaching 14,502,525. This represents a 10.66% increase compared to the same quarter in the previous year, surpassing the passenger volume recorded during the pandemic (Q3 2020 and Q3 2021). However, passenger numbers remained below pre-pandemic levels (Q3 2019).
The steady recovery in passenger traffic at Barcelona Airport can be attributed to several factors, including the easing of travel restrictions, the launch of new routes, and the increasing popularity of Barcelona as a tourist destination. The city is known for its stunning architecture, vibrant culture, and Mediterranean climate.
Barcelona Airport Passenger Volume - Q3 2019 to Q3 2023
In the pre-pandemic year (Q3 2019), the airport recorded 15,877,852 passengers. However, during the pandemic year (Q3 2020), there was a significant decrease with only 2,827,912 passengers. The post-pandemic period saw a strong rebound, with 7,759,768 passengers in Q3 2021, and increased to 13,105,135 passengers in Q3 2022. In the third year post-pandemic (Q3 2023), Barcelona Airport recorded an increase with 14,502,525 passengers.
Passenger Traffic at Barcelona Airport - 2018 to 2022
In 2018, Barcelona Airport recorded a total of 50,172,457 passengers. There was a slight decrease in passenger numbers in the pre-pandemic year of 2019, with 48,164,257 passengers. The pandemic year of 2020 saw a significant decrease, with only 12,738,769 passengers. However, there was a strong recovery post-pandemic, with passenger numbers reaching 18,874,896 in 2021 and further increasing to an undisclosed number in 2022.
Flight Statistics at Barcelona Airport - September 2023
In September 2023, the top country destinations from Barcelona Airport were Spain, Italy, the United Kingdom, Germany, and France. London, Paris, Rome, Amsterdam, and Lisbon were the top international destinations.
The top domestic destinations were Palma Mallorca, Madrid, Ibiza, Menorca, and Sevilla. The top five airlines operating at Barcelona Airport were Vueling, Ryanair, easyJet, Wizz Air, and Lufthansa.
Are you a travel publisher and would like this information for your site/blog/publication?
Contact us on this form to request Barcelona Airport Statistics (Statistics, data and infographics are available for a wide range of airports worldwide - please tell us your requirements using the form)
UNBEATABLE VALUE CAR RENTAL

FREE
Amendments,
FREE
Cancellations,
NO
card fees!

airport_shuttle Need Airport Transfers?
Useful Information about Barcelona Airport