BARCELONA AIRPORT (BCN) INFORMATION
Origin
Airline
Flight no.
Scheduled
Est./Actual
Status
No flight arrivals were found at Barcelona Airport.
Destination
Airline
Flight no.
Scheduled
Est./Actual
Status
No flight departures were found at Barcelona Airport.
Car Hire at Barcelona Airport
UNBEATABLE VALUE CAR RENTAL
Free Amendments | Free Cancellations | No Card Fees



Barcelona Airport - All Information on Barcelona Airport - El Prat (BCN) Barcelona Airport
08820 El Prat de Llobregat, Spain
phone +34 913 211 000
phone+34 932 596 440 (Lost + Found)
emailbcninformacion@aena.es
emailbcninformacion@aena.es (Lost+Found)
call_end+34 932 983 737 (fax)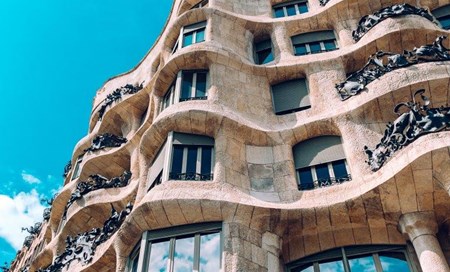 Barcelona airport (airport code BCN) is a modern international airport located 14 km south-west of the city of Barcelona in Spain. One of Europe's busiest airports, it currently serves 210 destinations and handles around 90 flight operations every hour.
Arrivals and Departures at Barcelona Airport
90 airlines fly from Barcelona airport including Vueling, Ryanair, Easy Jet, Norwegian, Air France, Iberia and Whizz Air. More than half of these are low-cost carriers, flying to European destinations including Italy, France and Germany. Around 36% of the airport's passengers fly with Vueling, a budget airline based at the airport.
The number of passengers who used the airport in 2018 was 50,172,457, an increase of 6.1% on 2017. The airport is currently in the middle of a €1.26 billion modernisation "masterplan" which will create new shops, offices and an e-commerce hub, and is due to be completed in 2020. In December, the name of the airport changed from Barcelona–El Prat to Josep Tarradellas Airport, after the head of the Catalan government who was exiled under Franco.
Barcelona airport has three runways, 234 aircraft parking stands and two passenger terminals, which are 4 km apart and linked by shuttle bus. Terminal 1 (T1) was built in 2009 and is a modern, sky-lighted building designed by Catalan architect Ricardo Bofill, with a large shopping area known as the 'Sky Center'. Terminal 2 (T2) is made up of the airport's original terminals A, B and C and is now the base for most of the airport's domestic carriers.
The airport is well-connected to the city by Metro, bus and train. Metro line L9 Sud runs from both T1 and T2 to three stations that connect to the city center: Torrassa (L1), Collblanc (L5) and Zona Universitària (L3). A single ticket in either direction costs €4.60.
Transfer Services at Barcelona Airport
The Barcelona Aerobús [A1 and A2] runs between both terminals and Plaça de Catalunya every ten minutes, while the number 46 connects the airport to Plaça Espanya. Both buses also run through the night. Regional buses connect the airport to the Costa Brava, Girona and the rest of Catalonia from T1 Arrivals. Buses also run to Andorra and the South of France.
The airport train station is located in T2 and is linked to T1 by shuttle bus. Trains run every 30 minutes on line R2N to Barcelona's central railway station, Barcelona Sants. From here there are connections to the rest of Spain and Europe including to Malaga, Seville, Madrid and Paris. R2N also stops at Passeig de Gràcia - where to alight for the city center and the Barri Gòtic. A single ticket either way costs €4.20.
Plenty of rental car companies are based at the airport (in both T1 and T2), including Hertz, Europcar, Enterprise Rent a Car, Avis and Budget. There are taxi ranks in both terminals at Arrivals, and the journey to the city center costs around €35. The drive to or from the airport should take approximately 20 minutes on the C-31 Barcelona-Castelldefels road.
There is a total of 20,005 parking spaces at the airport, around 1200 in T1 and 8000 in T2. Both T1 and T2 have short-stay car parks linked to the airport building themselves. There is also a long-stay car park which you can book and pay for in advance.
The airport's business area is available to hire by anyone who wants to hold a meeting or an event. It has a boardroom, rest areas, fully equipped offices, events space and fitness areas and is located on Floor 1 of T1.
Other facilities at the airport include several Global Exchange currency exchanges in both terminals. There is free high-speed WiFi access throughout the airport. Tourist information points are located on Floor 1 of T1 and Floor 0 of T2.
T1 has a wide variety of shops, restaurants and lounges. For clothing, there are many top fashion outlets including Zara, Ted Baker and Mango as well as jewelry, cosmetics and duty-free stores. Restaurants include Alas by Hermanos Torres and tapas bar Enrique Tomas. Coffee shops include Illy and Starbucks. There are three VIP lounges and also an Aqua Salon Spa. T2 has fewer shops than T1, some food outlets, one VIP lounge and an Aqua Salon Spa.
The Aqua Salon Spa is located on Floor 1 of T1 on Floor 1 of T2 and offers treatments including facials massages, manicures and pedicures.
Barcelona Airport VIP Services
VIP services in Barcelona airport include several VIP lounges where passengers can wait comfortably before their flight. There is also a Fast Track service which gives passengers priority when passing through security. Currently, some of the lounge areas are being refurbished, and access may be limited.
There are four VIP lounges inside security, including three in Terminal 1 and one in Terminal 2. Access to the lounges is free for Business and First-Class passengers and those with Priority Pass membership. If not flying Business or First, passengers can still access the lounges by paying on the door, although will not be granted if the lounges are already full. The VIP lounges offer food, relaxation areas, showers, mobile phone charging points, WIFI, work areas and newspapers. Children under five enter free.
The Paul Casals VIP lounge is located on the second floor of the boarding area of T1 and is for Schengen and domestic passengers only. It opens at 5.00 am and closes at 10.15 pm. The Colomer VIP lounge is for passengers on Barcelona-Madrid shuttle flights and is open from 6.00 am until 10.00 pm and is located on the first floor of T1. The Miro VIP lounge is for passengers on non-Schengen flights. It has the same facilities as the other lounges with the addition of a wellness area and hair salon. The Canudas VIP lounge is located on the first floor of T2 and is currently undergoing refurbishment.
Fast Lane tickets can be purchased via the airport website. These grant passengers a speedier journey through security and access to exclusive check-in desks. T1 also offers VIP parking, where your vehicle is collected and delivered back to you.
The Aqua Salon Spa is located on Floor 1 of T1 on Floor 1 of T2 and offers treatments including facials massages, manicures and pedicures.
Hotels near Barcelona Airport
There are a number of hotels to suit all budgets and requirements at or near Barcelona Airport.
Barcelona Airport Parking
Terminal 1 and Terminal 2 are approximately 4 km apart, so if passengers need to change terminals, they must board a free shuttle bus. This bus leaves T1 from outside Arrivals and leaves T2 from outside Departures. It runs every 5 minutes at peak times, every 7 minutes at other times and every ten minutes during the night.
Several different rental car companies are located in T1 and T2, including Avis Budget, Hertz Thrifty and Europcar. Section A of the main T1 car park is where to return vehicles booked in T1. Those booked in T2 should be returned to the car park in front of T2.
In total, Barcelona Airport has approximately 20,000 car parking spaces. There is a short-stay multi-story car park at T1 with direct access to the terminal. The rate is charged per minute.There is a short-stay multi-story car park at T2 with direct access to the terminal. T2 also has an express car park where the first 15 minutes are free, for those dropping off or collecting passengers.
The airport's long stay car park is approximately 3-5 minutes from the terminals by free shuttle bus. The minimum stay is eight hours. Parking is reserved and paid for in advance online. T1 also offers VIP parking, where your vehicle is collected and delivered back to you.
Disabled passengers arriving at Barcelona airport can arrange to be met by airport staff/helpers at official meeting points in advance or can simply turn up and use the intercom provided. In T1 the meeting points include on the sidewalk in front of the building, and in car park section G. For T2, there is a meeting point on the sidewalk in front of the terminal building and in car parks A and B.
Additional Services and Amenities at Barcelona Airport
At Barcelona Airport you will find the usual array of bars and restaurants, airport lounges and shops.
What to do in Barcelona
With its flamboyant, exciting architecture, vibrant nightlife and world-class food and drink scene, a visit to Barcelona should be on every traveler's list. Wander around the romantic Barri Gòtic, a part of the city dating from 130 BC, try some authentic tapas, browse some of the excellent museums and of course, don't miss one of the architectural wonders of the world, the Sagrada Familia.
An excellent place to start exploring Barcelona is the Barcelona History Museum (MUHBA) which charts the city's history from Roman times. Nearby are some of the oldest buildings in the city, including the Gothic church of St Mary of the Pine which dates from the 15th century. Another of the city's ancient churches, the Romanesque St Paul in the Fields is only a ten-minute walk away.
Visitors wanting to delve deeper into the city's history should head to Montjuïc, a large hill with a castle and fortress that was used to defend the city and is the site of key events in Barcelona's past. For those interested in art and architecture, the magnificent National Palace with its collection of modern art is a must-visit. From the castle, there are spectacular views of the city.
One of the main attractions for tourists visiting Barcelona is the colourful, sometimes-perplexing buildings created by Catalan architect Antoni Gaudi. On Passeig de Gràcia there are two buildings designed by Gaudi, Casa Milà and Casa Batlló, and from there it isn't far to walk to another architectural marvel, Casa Calvert. To get a deeper understanding of Gaudi's vision for Barcelona, Park Güell is the place to go. The popular park is also the location of the Gaudi House Museum, which preserves the house where Gaudi spent the later years of his life. No visit to Barcelona would be complete without seeing Gaudi's monumental masterpiece, the Sagrada Familia with its eighteen incredible towers.
Barcelona is a fantastic city to wander around. Sampling the fantastic food and drink and soak up the atmosphere in one of the many squares or green spaces. An excellent place to stop for brunch is Passeig del Born where many of the city's best tapas bars are located. Another is Plaça de les Glòries Catalanes, where bars and restaurants line the square. Mingle with the locals in Placa del Sol in Gracia, the original Catalan enclave. Barcelona also has some delightful markets such as La Boqueria, which is located off La Ramblas.
Barcelona is the capital of Catalonia, and if you are interested in the region's culture, the Catalan History Museum in Barceloneta is where to discover how the region developed its identity. Art lovers can head to the Picasso museum which has more than 4500 works by the artist, or the Barcelona Contemporary Art Museum (MACBA).
Contemporary culture in Barcelona is buzzing. The best place to experience it is the district of Eixample, which is full of bars, innovative galleries and boutiques. If all the above hasn't worn you out, then the Barcelona Center of Contemporary Culture is the place to relax and enjoy a cutting-edge exhibition, film or live performance.
Services at Barcelona Airport
Useful Information about Barcelona Airport