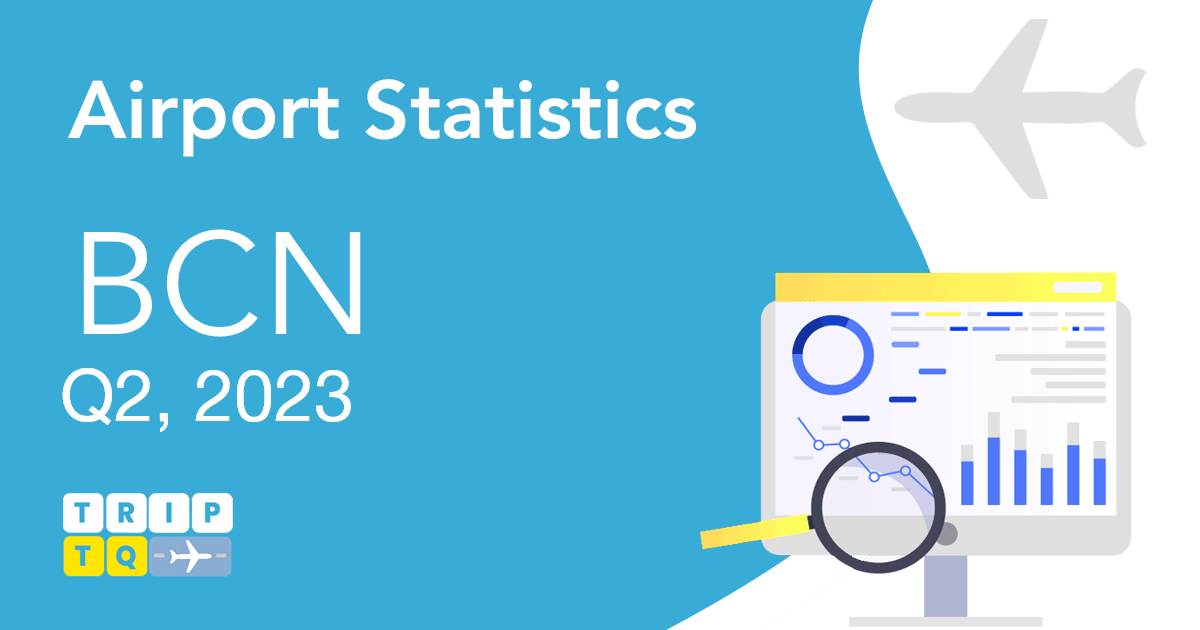 Barcelona Airport Sees Steady Recovery in Passenger Numbers and Popular Destinations
Barcelona Airport (BCN) has witnessed a remarkable rebound in passenger numbers during the second quarter of 2023, marking a significant recovery from the impact of the COVID-19 pandemic. The latest statistics reveal a positive trend, with a 15.22% increase in passenger traffic compared to the same quarter of the previous year.
Q2 2023 Passenger Statistics
In Q2 2019, Barcelona Airport recorded a total of 14,310,313 passengers. However, the following year, during the height of the pandemic, the number plummeted to a mere 221,171 passengers, representing a staggering 98.45% decrease. The subsequent year, Q2 2021, saw a remarkable surge in passenger numbers, reaching 2,708,650, marking a 1124.69% increase from the previous year. In Q2 2022, the airport experienced a further growth of 321.12%, with 11,406,548 passengers. Finally, in Q2 2023, Barcelona Airport welcomed 13,142,056 passengers, reflecting a 15.22% increase from the same quarter of the previous year.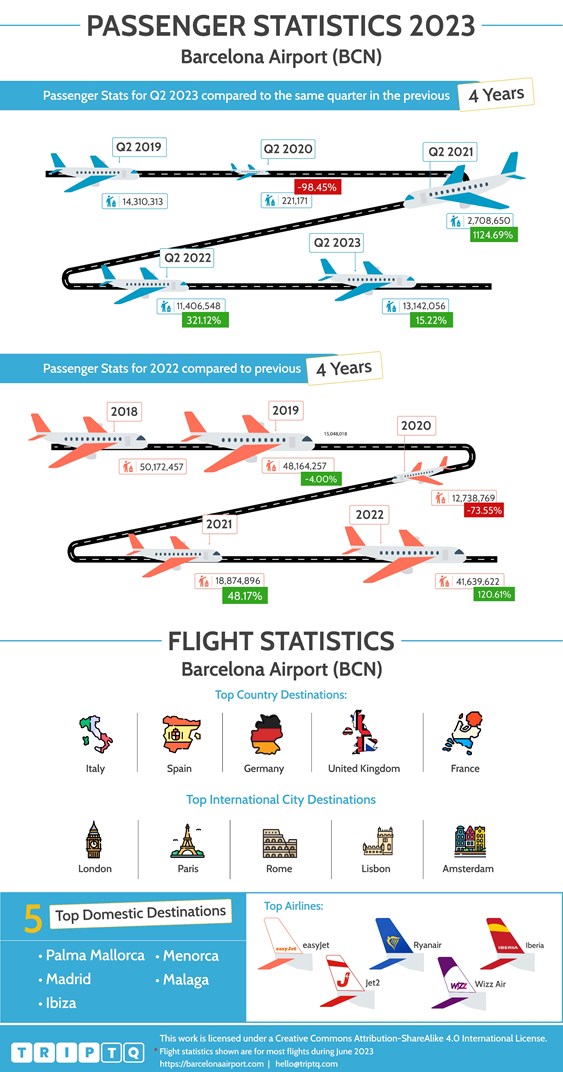 This work is licensed under a
Creative Commons Attribution 4.0 International License
.
View Full Size
Passenger Statistics Comparison (2018-2022)
When comparing the passenger statistics for the entire year, Barcelona Airport has shown a consistent upward trend. In 2018, the airport recorded 50,172,457 passengers, which slightly decreased by 4.00% in 2019, reaching 48,164,257 passengers. However, the year 2020 witnessed a significant decline due to the pandemic, with only 12,738,769 passengers, representing a 73.55% decrease from the previous year. The following year, 2021, marked a recovery with 18,874,896 passengers, reflecting a 48.17% increase. Finally, in 2022, Barcelona Airport experienced a substantial growth of 120.61%, with a total of 41,639,622 passengers.
Barcelona Airport Flight Statistics
Barcelona Airport remains a popular hub for both domestic and international travel. The top country destinations from the airport include Spain, Italy, the United Kingdom, Germany, and France. Among the international destinations, London, Paris, Rome, Amsterdam, and Lisbon top the list. For domestic travel, the most popular destinations are Palma Mallorca, Madrid, Ibiza, Menorca, and Malaga.
When it comes to airlines, Vueling, Ryanair, easyJet, Wizz Air, and Iberia are the top carriers operating at Barcelona Airport. These airlines offer a wide range of domestic and international flights, catering to the diverse travel needs of passengers.
Barcelona Airport has shown a steady recovery in passenger numbers, with Q2 2023 witnessing a 15.22% increase compared to the same quarter of the previous year. The airport's resilience and popularity as a travel hub are evident in the consistent growth seen in the past few years. As travel restrictions continue to ease and confidence in air travel returns, Barcelona Airport is poised to further regain its position as a key player in the aviation industry.
Are you a travel publisher and would like this information for your site/blog/publication?
Contact us on this form to request Barcelona Airport Statistics (Statistics, data and infographics are available for a wide range of airports worldwide - please tell us your requirements using the form)
UNBEATABLE VALUE CAR RENTAL

FREE
Amendments,
FREE
Cancellations,
NO
card fees!

airport_shuttle Need Airport Transfers?
Useful Information about Barcelona Airport